Foreword
Welcome to my FPV Miniquad Buying Guide. Here I recommend you the ideal parts to build a Miniquad that flies with 5″ propellers and 6S lipos to get results like you can see on YouTube at Mr. Steele, JohnnyFPV and RotorRiot.
Who is this for? Beginners as well as advanced pilots who don't want to try it out themselves but want to follow a solid recipe to build a good flying miniquad. Can't I buy a finished one? Yes, of course you can – there are good ones. But these things break and you'll have to repair them anyway. During construction you will learn basic things about your aircraft and will be able to repair it more easily later. As a reward you will get a much better Miniquad for the same or even less money! So go for it!
Miniquad
This setup totals at about $140 before the use of coupons (use coupons!) and gets you a better drone that any ready-to-fly will ever do, and you learn something while building it. Building is easy because all this components fits perfectly and the integrated electronics-stack saves you a lot of work.
Transmitter
To control our drone in the air we're going to need a Transmitter. FrSky has some really good ones and they are operating on thr OpenTx Operating System what makes them really flexible in programming – you can make it do basically everything. Also, most FPV Pilots use these radios so they are widely supported and you will get help everywhere. The best model to begin with is the FrSky Taranis QX7 ca $110

You can buy the transmitter first and hook it up to a computer and use a simulator (z.B. Velocidrone) to learn how to fly.
LiPo and Charger
To fly, you will need some lithium polymer batteries (=LiPo). We designed the quad around the use of 6S batterys, meaning that they have 6 cells. A good capacity will be between 1000 and 1200mah, that should result in weight around 200g. We need to have a XT60 connector on there LiPo's as this is the standard.
Here is a recommendation: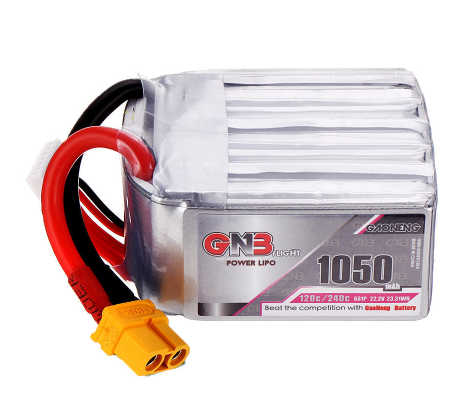 Gaoneng 22.2V 1050mAh 120C 6S Lipo Battery ca $28
alternativ:
Gaoneng GNB 22.2V 1100MAH ca $33
Don't buy more than 4 pieces for the beginning.
Get a small and transportable charger: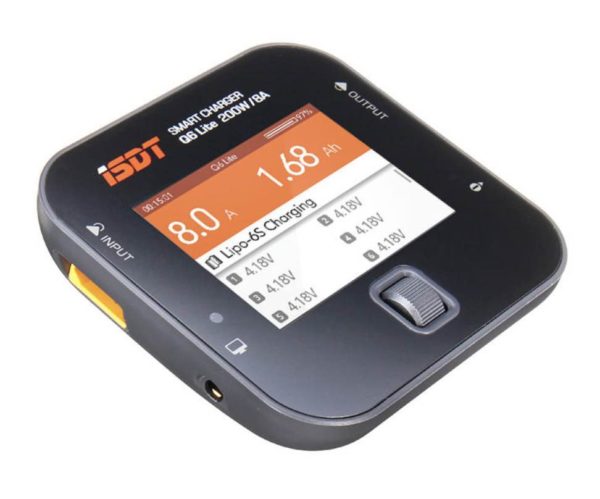 ISDT QX6 lite charger ca $35
This small charger is small enough to go into you backpack and be everywhere you want to fly. Its also powerfull enough to charge 4 batteries in parallel if you want to do that later on. You'll have to power it from either of these sources:
120w power supply ca $18 
Car adapter XT60 ca $9
large 10.000mah 6S field battery ca $100
Using the above lipo you can charge the smaller ones in the field. If you mostly fly by your car, just get the AC power supply.
FPV Goggles
Goggles are the most important part of your FPV flying experience. Unfortunately they are kinda expensive and there is really no shortcut. To have a good experience you will have to get a pair of Fatsharks.  Good news is you can start with the attitude V3/V4.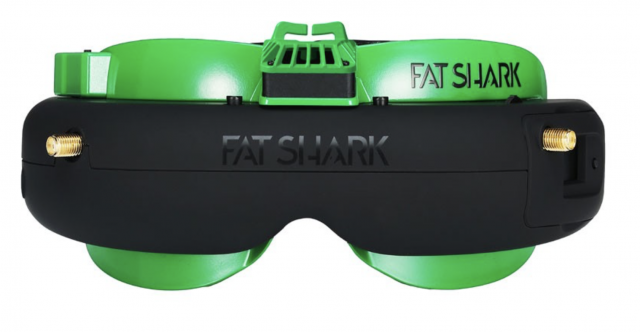 Fatshark Attitude V5 ca $280
The difference between Attitude and Domintator is that Attitude already comes with receiving module and antenna. If money is no problem just get the Fatshark HDO, RapidFire module and some decent antennas.
Coupons
Most prices here are based on Coupons, so you'll need to add one of these Coupons at checkout to get the pricing displayed here: BGBCFPV, AFFBG10, Toyho, Toysho